Gaming Gets High Scores with University Students
GAMING AND COLLEGE LIFE
It should come as no surprise that college students have readily accepted online gaming into their lives given the unique environment college provides. Gaming pairs nicely with burning the midnight oil, all-night study sessions, and socializing. Close to half (41%) of college gamers reported playing after 9 p.m. Only 8% reported gaming before noon, while another 37% play between 5 p.m. and 9 p.m. (source: Pew Research). 
Gaming is also considered a component of students' entertainment, and contrary to popular belief, gaming is not a one-person activity. College students are either playing multiplayer online games, instant messaging while gaming, or playing games with friends in person. Today's gaming experience is shared with both online and offline friends. The accessibility of cheaper technology, broadband and wi-fi further contribute to the continued growth among college students.     
SO, WHERE DO THEY PLAY?
Students can commonly be found gaming in their residence halls and computer labs. Several campuses have "gaming labs" where most students visit the lab purely for entertainment. These labs are often located in public settings, such as school computer labs, libraries, and cafes. There are some schools investing in the future of the campus gaming by building standalone esports arenas for varsity programs and club members to train and compete in organized leagues. Some traditional collegiate conferences, such as the Mid-American Conference (MAC) and the Metro Atlantic Athletic Conference (MAAC), have gone to the lengths of creating conference-sanctioned esports leagues that offer their member schools an opportunity to compete against other common conference opponents and rivals similar to traditional sports.
Tournament and league organizers including eFuse, who own and operate College Carball Association (Rocket League), College COD (Call of Duty) and CCA featuring Fortnite have more than 500+ schools that compete annually, including many Power 5 programs. More than 175 schools are official members of National Association of Collegiate Esports (NACE), which serves as one of the two main governing bodies of collegiate esports. These programs legitimize gaming for university students and offer dedicated facilities for training, competing and fun play.
There are even new offerings expanding existing traditional sports rivalries off the field and into esports, none larger than the rivalry between The Ohio State University and the University of Michigan. This coming November, both universities are working with eFuse, Epic Games & Fortnite to create a custom Fortnite map that incorporates school logos and notable campus landmarks from both schools. The map will also include additional signage highlighting the history of the football rivalry between the programs. On the Sunday preceding 'The Game,' there will be a Fortnite tournament, "The MFAM Gauntlet Presents Ohio State vs. Michigan featuring Fortnite," taking place in the custom map, where each school will have eight teams competing to name an ultimate winner, featuring notable gamers and talent from each school, like Nickmercs, Nate Hill, CJ Stroud, Denard Robinson, and many more. Each team will be made up of an athlete from that school, a student from the respective esports program, and professional content creators.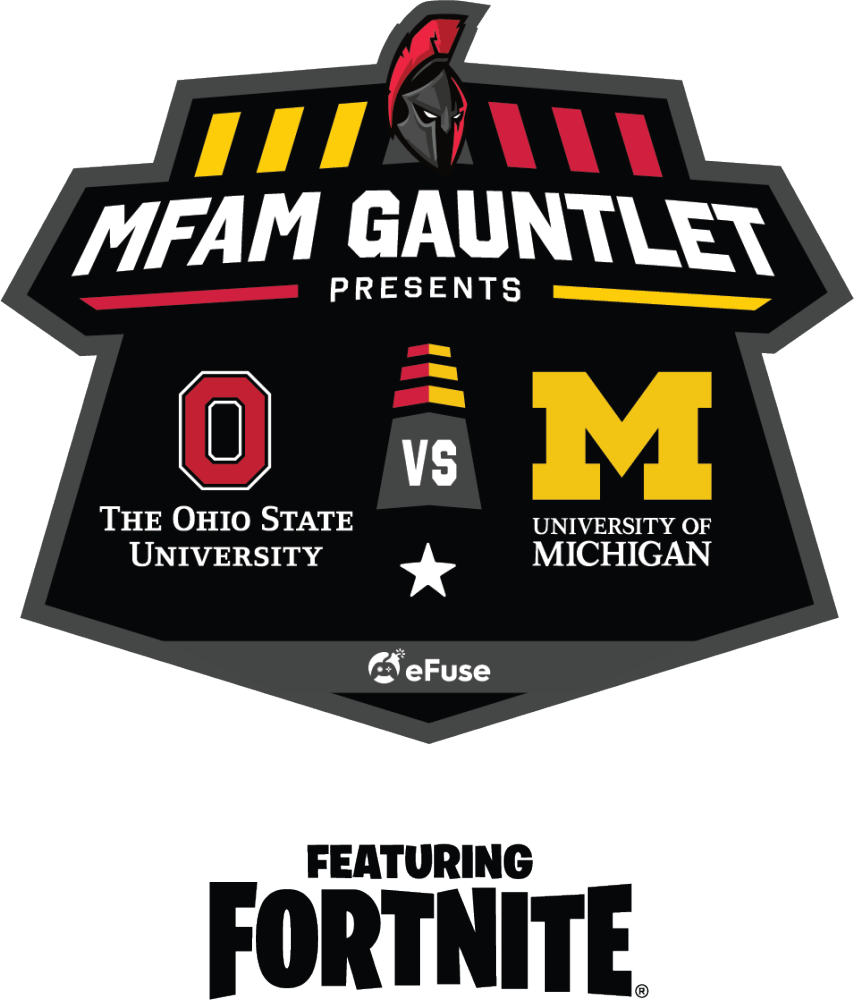 THE IMPACT OF GAMING ON STUDENTS' SOCIAL LIVES
Students' high interest and involvement with gaming should not be a surprise considering that gaming is essentially a part of growing up in the U.S. 77% of high school students have played computer games, and 69% of them had been playing video games since elementary school (source: CMLTD Games Columbia University Research Lab). It is important for brands to attempt to align with these students, because by the time they graduate almost all of them will have had some kind of experience with gaming. The continuing growth of wireless technology/cell phones with gaming capabilities, along with the availability of broadband connections, will continue to positively impact these numbers in the future and allow college students to maintain and even increase their online college gaming activities.
IS THE NEWS ALL POSITIVE?
Gaming has few negative effects on student social lives. It is well suited to students' "social lifestyle" with almost half (46%) playing multiplayer games. You can find students sitting at neighboring computers assisting each other, discovering interesting games, and sharing stories about their gaming successes and epic failures.
"Gaming in academia creates community for students who previously wouldn't have representation," said Logan Lewis, Esports Coordinator for the University of Akron.    
"It increases interpersonal skills and increases a sense of belonging. There's been a few different studies that show that students who game during the week tend to have better academic skills and produce higher grades."
GAMING + STUDENT = BRAND BENEFITS
In this day and age, it's almost impossible for a student to be successful without basic digital skills. Gaming can help students become accustomed to a new digital world, the Metaverse, a virtual-reality space in which users can interact with a computer-generated environment and other users. Brands that integrate gaming into their university marketing develop a more authentic connection with students. Additionally, gaming naturally aligns a brand with technology and innovation, two important attributes to student life (source: Pew Research).
MARKETING TO THE STUDENT GAMER
College students are young, innovative individuals who represent the most forward-thinking target group. A brand's marketing strategies must be authentic (there's that word again), flexible and inspiring. Gaming reaches the college student in various environments that are comfortable for them. The challenge for brands is that the college student is a moving target and, even with insights about how they spend their time, it can be difficult to deliver marketing results. Gaming provides a platform that utilizes a variety of college marketing mediums to support a brand: social events, consumer promotions, and brand messaging integration. Part of marketing to student gamers includes engaging on the platforms and sites that they frequent, such as Discord, Twitter, Tiktok, and Instagram.
Although the student audience may not have the most purchasing power, their demographic is highly attractive to brands as young people begin making many long-term life decisions and loyalties in their college years. Brands can create awareness and marketing campaigns that establish brand preference with impactful decisions like automotive purchases, insurance, credit cards, telecommunications and many home services (ex. internet, grocery, meal deliveries) as they live on their own or with friends for the first time. Brands engaging with gamers natively through their passion points have a unique opportunity now with the emergence of collegiate esports in its formative years.
Questions about how your brand can reach students? We're here to help. Comment below or direct message Dave Rosenberg and Brandon Herwig on LinkedIn or email gaming@gmrmarketing.com.